Tell them your favorite dish for a Rainy day and get a chance to win a Panasonic Microwave oven. This contest is presented by Panasonic India & Valid till 15th August 2013.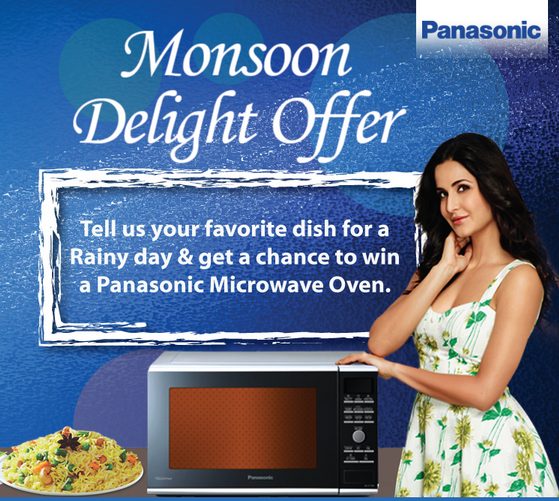 Visit Here

Facebook Page
Like & Share your favourite dish in the Comments section
TERMS AND CONDITIONS
Monsoon Delight Offer is introduced by Panasonic India for a limited period (15 July 2013 – 15 August 2013) only.
Monsoon Delight offer can be withdrawn anytime during or after the campaign duration as per discretion of Panasonic India. This offer holds, only till the stock lasts.
Winner of best recipe for a Rainy Day contest will be decided on the basis of 2 parameters:

A) Number of likes which the recipe will get on Panasonic India's Facebook page. (Top 5 Entries will be shortlisted)
B) A Panel of 2 judges from Panasonic India will decide the final winner out of the 5 most liked recipes (As received at the end of campaign duration).

The winner of contest will get a Panasonic Microwave Oven (Model No. NN-GT341M )
This offer / contest is open to all the residents of India. There are no eligibility criteria for participation in this contest/ avail the offer.
This Contest shall run in accordance with the stipulated criteria decided by Panasonic India.
The following categories of persons are not eligible to enter the Contest: employees (including their immediate families) of Organiser and its respective divisions, affiliates, authorised dealers/distributors, agents; suppliers of the Prize(s); and any other company professionally connected with this Contest.
Entrants may submit more than one (1) entry but in the event of repeat submissions, only the latest entry will be eligible for consideration.
Panasonic India reserves the right to deal with any unclaimed Prize in any manner it deems fit.
In the event of any inconsistency between these Terms and any advertising, publicity and other materials relating to or in connection with the Contest, these Terms shall prevail. In the event of any inconsistency between these Standard Terms and Conditions and the Contest Details, the Contest Details shall prevail.
The Organisers reserve the right to terminate the Contest or to modify the Contest rules and Terms prior to the Closing Date by amending the rules and Terms hereof at its sole and absolute discretion. Any such modifications shall be notified via the Contest Website, and such modifications shall be immediately effective and apply to all entries, including entries that have been submitted to the Organiser.