Sony VAIO BBX Contest :This contest is open to citizens of India, residents in India only. Employees of Sony India Pvt. Ltd. ("Sony India"), Sony Entertainment television (SET), Sony Videos (SPE) and its affiliates, subsidiaries, representatives and immediate family members of such Sony group companies employees are not eligible to participate in the contest. Citizens of foreign countries residing in India/ or non-residents Indians are also not eligible to participate in the contest.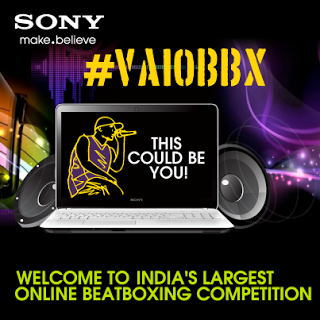 Visit Here

Offer Page
A participant has to be a Facebook and YouTube user
Participants can login to the contest using their Facebook profiles
After login, participants will be directed to the entry submission page where user can upload their entry video.
On the contest dashboard, participants can upload their beat boxing video. Only one video per participants is allowed. The video must be a YouTube video. The entry once done cannot be changed later.
Follow these quick and simple instructions to participate in this contest:
You can participate as a team or an individual
To submit your Beat Box Video, click on the Participate tab
Fill in the form details and submit our YouTube video link
Video submitted must be your Beat boxing performance
You can upload only one video and once the video & related details have been uploaded the same cannot be changed
Video must be YouTube video only
Make your video entry popular enough to beat other participants. More the number of votes, higher the popularity
5 participants will be shortlisted based on the number of votes and by a Panel of Jury.
The shortlisted participants will perform the song "Moves like Jagger" live on Sony India official Google Hangout channel in front of the Shlomo on 8th August, 2013
Winner gets a VAIO F15 as a prize
Know more about Beatboxing here
Check the TVC and Song "Moves like Jagger" here
Check beatboxing tutorial here
Read Terms and Conditions and privacy policy as mentioned below
Terms & condition | Privacy Policy