Are you enjoying the monsoon? Monsoon itself brings happiness, joy and love with it. Currently, each and every city of India is enjoying Monsoon climate. Capture and Upload some pictures of Monsoon. Focus on the topic Monsoon. Contest will end on 03 August, 2017. Follow the rules step by step. Upload photos and win free india samples.
Rules:
You can submit multiple photos in any contest. However, photos need to be uploaded only one at a time.
Photos submitted must be at least 640 pixels on the shorter side, and no more than 2000 pixels on the longer side. Images should be no larger than 2 MB. Photos must be in JPEG format The file size should not exceed 2 MB.
For each photo, specifying a caption is mandatory.
Once uploaded, photos / details can be deleted, altered, or changed only before the contest closing date.
Uploaded photos will be displayed on the site only after moderation.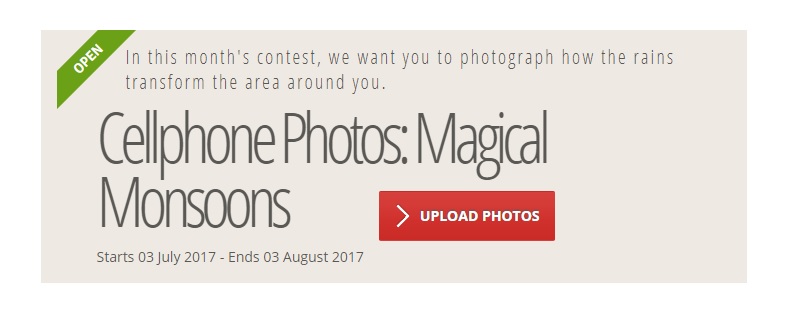 Visit Here

O

ffer

P

age
Click on Upload
Post and Win